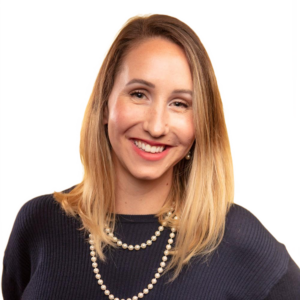 Alicia Amerson is a traveling Certified Newborn Care Specialist, Certified Postpartum Doula, Lactation Educator, Sleep Consultant, Parent Coach, and Certified Eco-Consultant based in Seattle, WA. Alicia optimizes postpartum recovery and newborn care with expert 24/7, overnight, and travel support. One of her passions while working with families is creating a low-toxin environment for babies during critical developmental periods.
In addition to 11 years of hands-on experience in supporting families, her degree in developmental psychology and background as a nursing assistant allow her to draw from a wide base of knowledge and skills. She is a lifelong learner and plans to become a Newborn Care Solutions Master NCS in 2023. She is dedicated to gaining new skills and information to benefit parents, including staying up to date on the latest research and guidelines. In her free time, she takes great joy in hosting the NCS Book Club, planning continuing education events, and mentoring other Newborn Care Specialists.
Watch the Meet the Speakers Feature with Alicia.
It's Easy Being Green: How to Reduce Toxin Exposure for Newborns
We've all heard the term "going green," but what does it actually mean and why is it important for caregivers? When you hear "we're going green" what comes to mind? Maybe you envision recycling and other environmentally friendly habits. Maybe it's eating organic and whole foods. Those are certainly important lifestyle choices to consider, but there's more to it. Babies are particularly susceptible to toxins in their everyday environment. They have tiny bodies and rapidly developing organs. A baby's heart rate and respirations are faster than an adult's. Combined with a lower volume of blood circulating through the body, toxins are less diluted and more easily absorbed. Their immature systems are much more vulnerable! At birth, the average baby already carries over 200 industrial chemicals and pollutants in umbilical cord blood, passed down generation after generation. When it comes to your clients, going green goes beyond eco-friendly practices like reduce, reuse, and recycle. I'll walk you through why avoiding toxins is so impactful for the babies in our care, what you need to know as an NCS to help your clients reduce chemical exposure from everyday products, and simple practices you can adopt to avoid bringing toxins into the home.