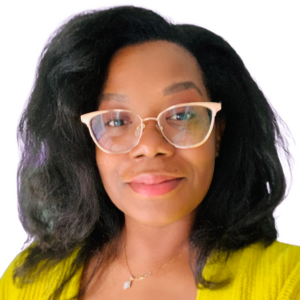 Driven to leave the world better than she found it, Courtnee Jones (aka Everything Courtnee) is a longstanding Nanny who enjoys every moment of helping parents and their little ones create the best foundations to thrive on. Passionate about helping next-gens step into the best versions of themselves, Courtnee brings with her an extensive 12+ year history involving early childhood education, moral compass guidance, inspiring healthy mindset shifts, and making days for kiddos as fun as they are enlightening. Even more, loves leveraging her acumen in childhood behavior management, social skill building, and dexterity in art, music, and dramatic play to not just raise good humans, but humans who will feel empowered to become the change they want
to see.
Courtnee loves what she does and is prideful in being able to help the world heal by raising a future of much-needed healers. And as a proud mother herself, she is passionate about hosting keynote conversations to empower nannies who are parents as well as supporting entrepreneur parents on social media platforms like Instagram and Clubhouse. However, when Courtnee is not working, content creating or helping others excel in this space, you can often find her baking, crafting, practicing yoga, and above all else,
being the best mom she can be.
Check out the Speaker Feature with Courtnee
The Nanny Mom Conversation: The Value and Marketing of the Nanny Parent
The Value and Marketing of the Nanny Parent is the third installment in a now international conversation about being a nanny and a parent simultaneously. This conversation is designed to help caregivers, agencies and employers debunk some of the myths about nanny parents. Additionally, this workshop will highlight some of the many benefits of working with nanny parents, should they choose to bring their child to work or not. The Nanny Mom Conversation is a multi-layered onion that is necessary for the growth of this industry as a whole. To keep career nannies in this industry we need to support them, and one way to do so is to highlight the value of the nanny parent.
Nannying While Black
Nannying While Black is a conversation about the nanny industry from the perspective of black nannies and agency owners. From working for non black families, to being mistreated while on the job, this session will shed light on what it's like to be a nanny of color.