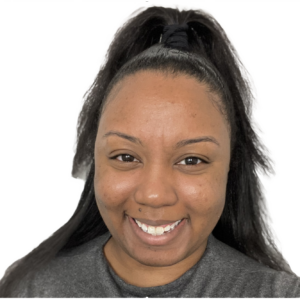 Diamond Knights is both a professional nanny and newborn care specialist. She has 10 years of experience working with children, from newborn to pre-teen stage, and she has studied psychology, with a concentration in child psychology. She was born and raised in Brooklyn, NY and grew up in a large family; as one of five siblings, her ability to speak up and speak out comes naturally. Diamond has used that voice to navigate the childcare industry and push through many types of obstacles, and her ability to advocate for herself and others has helped numerous families, childcare professionals, and friends alike. Diamond had a recent client situation where she came to the realization that as professional caregivers, our livelihoods are constantly at risk in the hands of clients, and negative experiences can hinder us from wanting to advocate for ourselves if we experience being taken advantage of, or being retaliated against. She is eager to join the movement to help others learn how they can step into every work environment equipped with all of the tools they will need to navigate tough situations, or even better, to prevent them from occurring in the first place.
Tales from the Trenches: NCS Contract Tips with Diamond Knights and Danielle Bujnak

Diamond Knights is an NCS who, like many of us, had a really tough experience this year with a client family and the agency who placed her, yet simply adding some key ideas to her contract would have made it a much easier experience for her.
Find out more about her experience, and how it illustrates some important clauses that you should consider adding to YOUR contract. We will cover a variety of challenging situations in addition to the pitfalls that Diamond experienced, and you will also learn and have the opportunity to practice important skills for discussing contracts in a productive way with current and potential clients. Most importantly, we will discuss how to explain to a client or agency why you have your own NCS contract, and don't want to use something they have created.
Please note that every NCS needs to have their own lawyer review their contract, to make sure that it meets their unique individual needs, in their jurisdiction. This presentation does not include any legal advice on specific wordings and their legal meanings. The presentation is intended as a professional development exercise in thinking ahead for potential challenges and practicing professional communication skills.