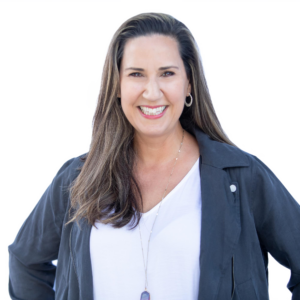 Elizabeth Agrapidis is an accomplished educator, pediatric physical therapist, teacher, NDT certified practitioner, author, toy inventor, wife and a mom of two awesome children. She is putting many of the puzzle pieces of whole infant and child development together for NCSs, nannies, and professionals like you from the convenience of your home through the Develop Connect Nurture Method Infant Development Certificate Program and specially offered seminars. She is offering these programs and building an active community to support babies and families by optimizing a baby's movement patterns and development before anything becomes a problem or affects their future. Her growing movement is called AbiliFit Pediatric Development Specialists.
As a pediatric neuro physical therapist, PE teacher, and adaptive PE teacher for children with special needs, she noticed that there was a huge gap of information and support for parents once they are home and she wanted to help with children's early development from that point on in her journey. She now takes that knowledge and practical experience and provides hands-on developmental strategies, knowledge and tools for your "Nanny Pack" through teaching, mentoring and her online program. This helps NCSs, nannies, and families to be appropriately equipped to guide children's physical, cognitive, sensory and emotional development and assist the babies in reaching their greatest potential.
Her goal is to promote the Ability of the body, mind, and spirit for professionals, babies, and their families. #thebabiesalwayswin
Check out the Speaker Feature with Elizabeth.
Practical Neuroplasticity of the Brain and the NCS: Brain/Body Communication & Connection

The world of neurology is typically reserved for doctors, researchers and therapists. Whoever works with babies has a right and responsibility to this info, and in a practical way so that it can be used and integrated into the daily lives of babies in the way they are held, fed, moved, talked to, & nurtured.
It is Elizabeth's goal to bring her experience as a pedi NDT therapist and her knowledge of neurology to all babies sooner. She wants parents to have a roadmap to healthy development so that fewer newborns will have to struggle through a tumultuous process of diagnosis and instead be able to live a happy stress-free life.
As NCSs, you have the opportunity to be hugely impactful! This workshop will address the WHY of some of the common developmental positioning and activities and how these actually help the brain and the body begin to connect and communicate. This in turn is how healthy development is set up and at the same time complications that will hold babies back from reaching their greatest potential later are prevented.