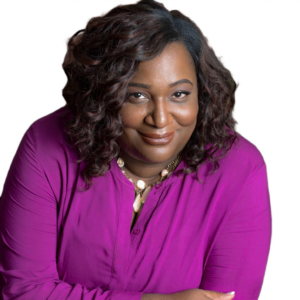 Kimberly C. Brown Aka Nanny Kim on the Go all across social media. Is a Professional Development Educator, Problem Solving Strategist Coach, International Speaker, and Mediator; She helps her clients, Nannies, and Parents understand the "Business of Nannying" and understand the "Simplicity of Effective Communication."
Kimberly is a single Mom of 2, a 24, and 5 year old daughters. As a Foster Care & Adoption Advocate, with a Childcare Career that spans 25+ years, she serves the childcare industry, hoping to bridge the communication gap between nannies and parents.
"It takes a village to raise a child, and I'm a village leader, " is the mantra she lives by. She is the author of How to Find the Perfect Nanny Ebook, which she released in 2021.
Watch the Meet the Speakers Feature with Kimberly.
Conflict Resolution: Effectively Communicating through Hard Conversations
This session will focus on how to communicate effectively when there is a problem at work between employees, clients, and/ or childcare providers. We will look at different ways to problem solve and what works best in different situations. We will focus on the Sandwich Method, how it works, and how to successfully implement it in these uncomfortable conversations.
This session Scenario Role-Play will have practice that show Conflict Resolution and Mediation techniques.